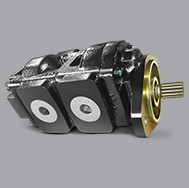 MAHINDRA DITEC ENGINE

Mahindra has taken its learnings from tractor engines, to bring its fuel efficiency down to an incredible 4.5* litres per hour. 10%* more savings with Mahindra's DITEC engine, 79.95 HP turbocharged intercooled diesel engine, fuel efficient, compact 4 cylinder, 3532cc engine, BS III pollution compliant.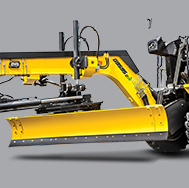 SUPER SAVING
Lowest Maintenance in class
With better technology and design enhancements, Mahindra has been able to lower lubricant refilling requirement with extended service intervals, thus reducing the overall maintenance cost. Hydraulic Oil: 50 litres with 2000 hours change interval, Rear Axle Oil (Differential): 14.5 litres with 1500 hours change interval, Engine Oil: 13.5 litres with 500 hours change interval, Transmission Oil: 16 litres with 1000 hours change interval.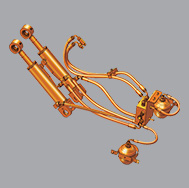 Blade
The 3000 mm Mouldboard comes with an option of having its size reduced by 400 mm. Depending on the requirement the blade size can be reduced by 200 mm on both sides. The cutting edge has a lasting life of about 600 hrs on standard operation cycle.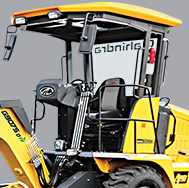 Optional Attachments
Added versatility
The RoadMaster G75 comes with the option of having additional fitments viz the Ripper and Dozer for added versatility. The Ripper is perfect for ripping hard compacted surfaces before grading while the Dozer helps with spreading.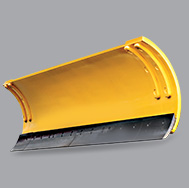 CONVENIENCE AND COMFORTABLE
SUPERIOR CONVENIENCE AND COMFORTABLE DESIGN
Mahindra believes that the most important part of the machine, is the person operating it. That's why we have worked hard to make his experience the most comfortable for his long hours of work. Ergonomic layout and seating – all controls are smooth and easy to reach, spacious canopy, lockable storage and mobile charging.