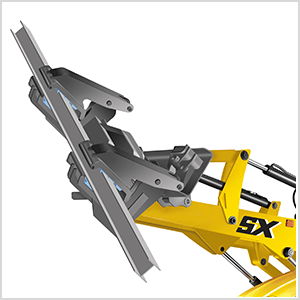 Pole Erector
The clamp and rotation hydraulic circuit is protected by counter balance preventing accidental pole drop.
The rotation cycle has a mechanical stop built in so that the hydraulic cylinders maintain the pole working range.
Machine stability as per international norms while handling standard size pole.
30% better pole length & weight handling capacity than competition.
Higher Productivity and Improved Profitability to the contractor.

- 20 times faster than manual operations.
- 4 times faster compared to tractor attachment with added safety features.
- 50% savings compared to manual operations.

Enhance Operator Comfort.

- Comfortable & safe operations because of cabin availability.
- Fatigue less longer clutch free operations.
- Ergonomically optimized single lever operation for rotation & clamping.
| | |
| --- | --- |
| Max Pole Cross section | 200 mm (8 inch) |
| Max Pole Lenght | 17 mts |
| Max Pole Weight | 650 kg |
Infrastructure - Overhead Electricity Distribution Pole
Agriculture - Farm Fencing
Industrial - Industrial Fencing, Wooden Log Handling
Muncipal Corporation - Street Light Pole