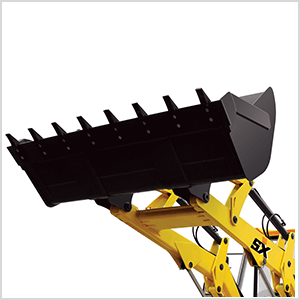 Standard Loader Bucket
Designed for digging, loading, carrying, levelling, grading & dumping in a variety of applications.
Smooth "C" plate profile and no inside obstruction in constrcution of bucket make high fill ratio for higher productivity of machine.
Replaceable wear parts (cutting edge & teeth) for increased durability and working life.
Multiple options of buckets to suit various applications.
Side plate reinforcement offers additional strength and rigidity.
Bolt on teeth.
Quarry - Loading & Unloading
Municipality - Waste Management
Land Scrapping - Loading and Unloading