Launches the SX90 under EarthMaster series along with SXL and DrillX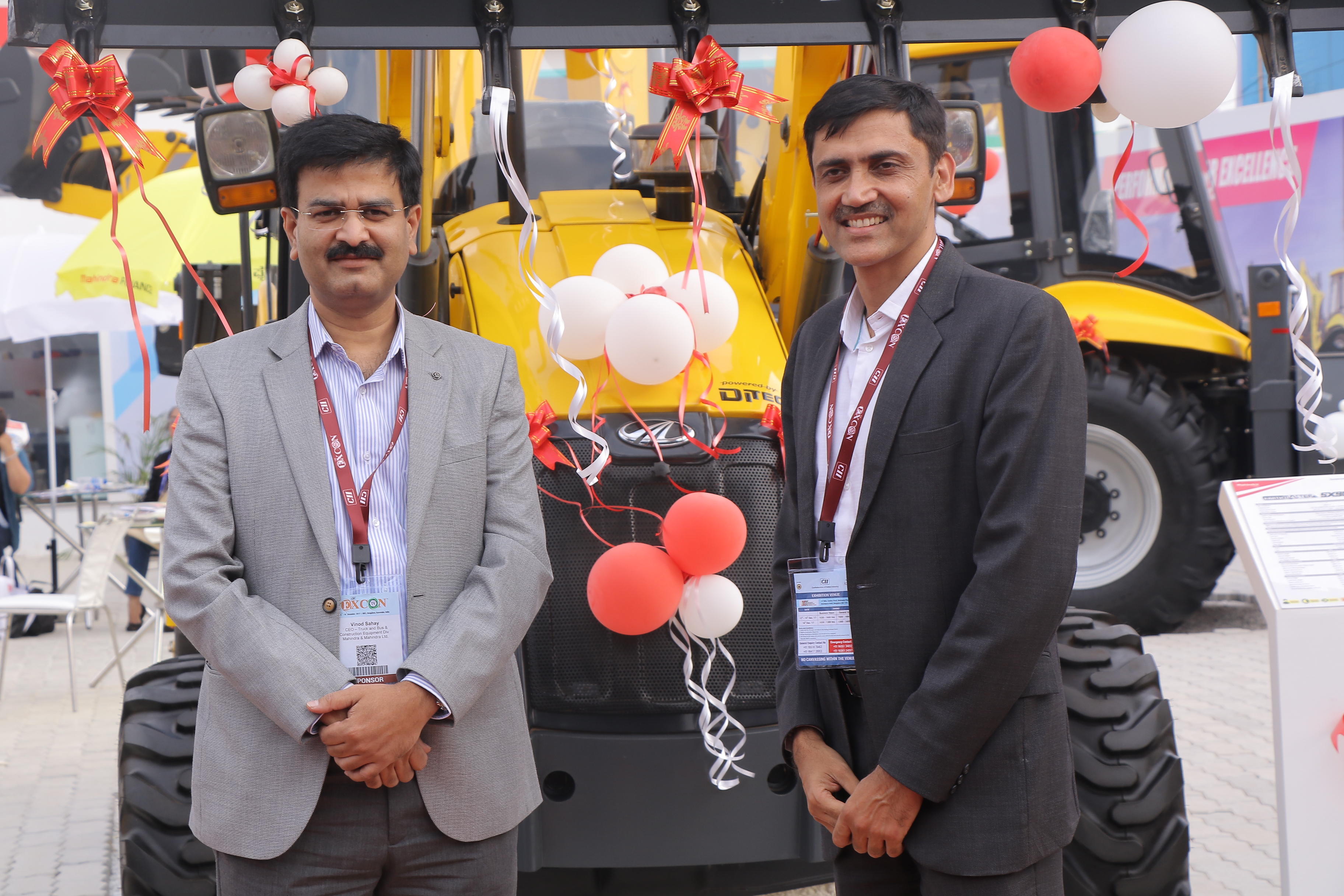 December 14, 2017, BIEC, Bangalore: Mahindra & Mahindra Ltd., part of the USD 19 billion Mahindra Group, today announced expansion of its existing range of backhoe loaders with the launch of its first higher horse power variant – SX90 under the aegis of its established brand EarthMaster.

Speaking at Excon 2017, Vinod Sahay, CEO, Truck and Bus Division and Construction Equipment Division, Mahindra & Mahindra Ltd. said, "In line with Mahindra's vision to provide comprehensive range of products and services for our customers, today we have entered into the higher horse power backhoe loader segment with the launch of Mahindra EarthMaster SX90. This product has been designed and developed after an in-depth understanding of the needs of the contractor fraternity. Our aim is to provide them from comprehensive range of backhoe loaders to the industry and help them breakfree from dated technology and thereby improve their productivity. A truly versatile solution, it provides an opportunity for maximum equipment utilization and delivers excellent quality output and thereby increased return on investments".

Sachin Nijhawan, Vice President and Business Head, Construction Equipment Division, Mahindra & Mahindra Ltd. said, "The SX90 is a rugged and versatile backhoe which is set to deliver excellent output at the least cost of operations. It provides performance par excellence and is most suitable for construction, demolition, loading and excavation operations among others. It is also apt for multiple applications with a wide range of application available".

About Mahindra EarthMaster
With best in class hydraulic forces and durable transmission, the Mahindra EarthMaster SX90 is truly versatile and the master of every job. It is powered by a 90 HP 4915-IA-CEV engine developed by Mahindra. The robust one-piece structure, extended banana boom and longer loader arm give the SX90 an unassailable advantage over its counterparts.

With a big spacious cabin that allows easy access and new ergonomically designed cluster for better accessibility, it provides for best in class operator comfort. Its backhoe end provides for quick excavation cycle time and higher digging forces leading to higher productivity.


The product comes with a one year, unlimited hours warranty, eliminating the customer's anxiety when it comes to expensive repairs. This is possible due to Mahindra's engineering and manufacturing capability, backed up by a gruelling testing regime and sourcing of the best components.

The Mahindra EarthMaster range including SX90 has undergone rigorous testing in the harshest of terrains and for the toughest of applications. It has been validated on all performance, safety and reliability parameters and is backed by Mahindra's dealer sales and service network covering over 400 districts which has unparalleled reach across the country. It is equipped with apt technology that is affordable and coupled with unmatched quality, superior style, operator comfort and its innovative telematics technology, DiGiSENSE.

Apart from SX90, other models in the EarthMaster series displayed at Excon 2017 includes standard variant VX which comes with joystick operation, SXL – the front end loader with extended arm and the new concept DrillX – a unique solution for piling application. The product display was also accompanied by host of attachments which truly complement the equipment and make them versatile as well.

The EarthMaster range is being manufactured at Mahindra's state-of-the-art facility at Chakan, Pune. Mahindra's Product Development team has utilized extensive consumer insight and feedback to develop this product which is built to withstand India's rough terrain and heavy usage. In addition, the products offer all the relevant features using the latest vehicle systems and technologies at competitive prices.


About Mahindra
The Mahindra Group is a USD 19 billion federation of companies that enables people to rise through innovative mobility solutions, driving rural prosperity, enhancing urban living, nurturing new businesses and fostering communities. It has a leadership position in utility vehicles, information technology, financial services and vacation ownership in India and is the world's largest tractor company, by volume. It also enjoys a strong presence in agribusiness, components, commercial vehicles, consulting services, energy, industrial equipment, logistics, real estate, steel, aerospace, defense and two wheelers. Headquartered in India, Mahindra employs over 200,000 people across 100 countries.

Learn more about Mahindra on www.mahindraconstructionequipment.com / Twitter and Facebook: @MahindraCE

Media contact information:
Ruchi Agarwal
Senior Manager, Marketing
Mahindra Construction Equipment
Mob: +91 8828238984

Mahindra South Africa unveils the "Mahindra Earthmaster" Backhoe Loader at the bauma CONEXPO AFRICA 2018