MCE Pune plant rolls out its 1000th EarthMaster Backhoe Loader on May 16, 2012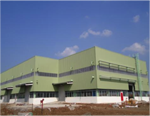 The Mahindra Construction Equipment Division's Pune plant has added another feather in its cap on May 16, 2012 when the 1000th EarthMaster Backhoe Loader was rolled out, a product moment for all of us at the Mahindra Construction Equipment family.

About Mahindra Construction Equipment Manufacturing Facility

The Mahindra EarthMaster is manufactured at Mahindra's state-of-the-art facility at Chakan, Pune . Spread over 30 acres, it is built up on an area of 10000sq.m. and is scalable for future product additions. This plant uses the state-of-the-art technology in the manufacturing process. The plant utilizes a fully automatic Robotic Welding Unit for welding purpose which ensures accuracy to give a superior cutting finish.

The plant follows set rigid quality evaluation procedures and implements the Advanced NOVA-C. Every machine rolled out is evaluated to check for appearance, welding and painting and proper functioning. It is also checked thoroughly for mechanical noises, engine noises, leakages etc. Ensuring that every Mahindra EarthMaster is absolutely perfect.

About the Mahindra EarthMaster Backhoe Loader

The Mahindra EarthMaster presents the discerning Indian customer with the choice to BREAKFREE from the limitations of dated technology. Equipped with superior technology coupled with unmatched fuel economy, superior style and operator comfort and REMOTECARE, the Mahindra EarthMaster offers a host of benefits to the earthmover and is the ideal machine for all heavy duty applications like excavation, loading, grading, dozing and cutting.