Mahindra EarthMaster - Backhoe Loader SX IV
The designers at Mahindra have taken technology to the next level. Looking at the current scenario, we have made a dramatic leap in the Backhoe Loader category by creating the new EarthMaster SX. With 55 kW (74 HP), a CRDI Mahindra engine, best-in-class fuel efficiency, and optimal backhoe performanceMahindra EarthMaster SX is engineered specifically to suit Indian-usage patterns and break all norms in the Backhoe Loader category.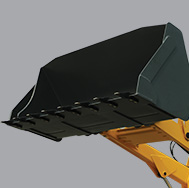 BIGGER BUCKETS
High Productivity with Bigger Loader (1.1 m3) and backhoe buckets (0.27 m3).
Mahindra Earthmaster backhoe bucket is around 8% bigger than competition.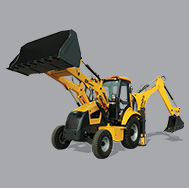 STRUCTURE
Better dig Depth with 2 mm thicker plates than usual for applications where the strength is needed.
More load bearing capacity to front axle with 63 mm thick beam, helps machine to do heavy work in loader application.
Ideal for all-weather condition like sub-zero temperature in the Himalayas, due to high impact resistant structural Grade of steel (350 C) for all critical components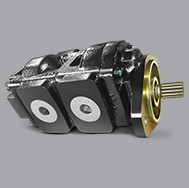 HYDRAULICS
Better backhoe speed & performance due to higher flow-handling capacity and less pressure losses.
Better Fuel efficiency due to less load on engine with lowest hydraulic refills required.
Lower per-hour maintenance cost due to 3000 hours hydraulic oil change interval. Leading to higher savings.
Improved Performance with Optimised Hoses and Tubes, higher flow capacity backhoe, loader control valve, and optimised hydraulic circuit to minimise pressure losses which is Ideal for rugged Indian site conditions.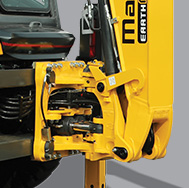 SLIDING FRAME
Less Machine Maintenance with H-frame design which ensures dirt does not accumulate like other machines.
Better Grip and Stability due to its 12-bolt support plate design and balanced weight distribution.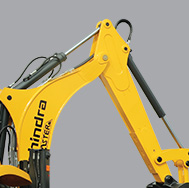 BANANA BOOM
Better life and impact strength of the boom due to its design like that of Excavators. The construction is with thick plates at the ends of the boom.
More structural strength and rigidity due to its a closed box section design.
Easy to fill Tippers and trolleys it as boom design which never interferes with the body.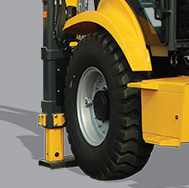 FINAL DRIVE
Reliable Aggregates which are less prone to failure due to its design which ensures better lubrication in all parts even in incline position, Increasing the life of Final Drive.
Final drive Consists of 3 Sections – 2 hubs and 1 middle section along with Differential separated by Oil Seals.
Oldest - Proven in Indian market power train with Optimised service refill capacity in Power train.
Technical specifications, features are subject to change without prior notice. Images used are for representative purpose only. Accessories shown may not be a part of the standard product. Actual colors may wary. E&O.E. "Standard exclusions apply. For further details on warranty, please visit your nearest dealer.
* According to government approved independent agency, under manufacturer standard PER/VEH/21 certified at 1450 r/min.
#When compared to a standard excavation cycle.
##Value measured under specific measuring conditions.
Price