Benefits of RoadMaster Motor Graders Over Imported Motor Graders for India
With "Local for Vocal" being the talk of the town today to boost the national economy, there are many more benefits of buying an Indian made motor grader which we would like to share with you. When we at Mahindra were studying the roads construction in India there were a few things that were very important but not so clearly visible in context to motor graders.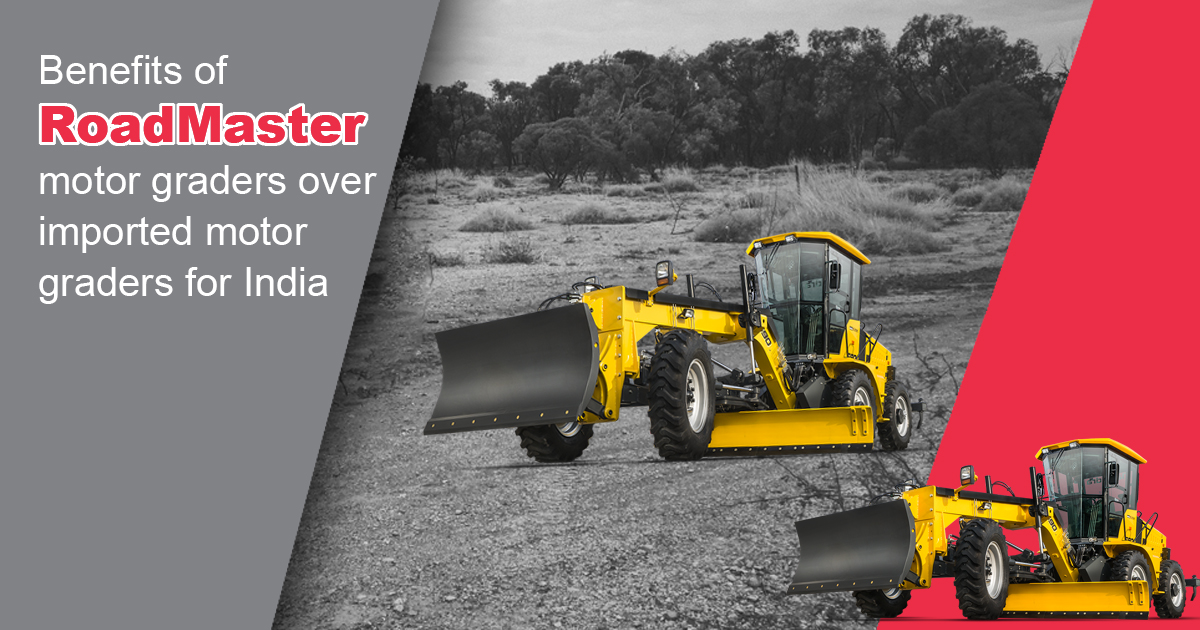 The first key insight was that motor grader is the most critical construction equipment on a road construction site and the site comes to a standstill if a grader is under breakdown. To prevent breakdowns, it was very important that the machine was designed for India, Indian operation and local conditions. This is not the case in India with almost all the motor graders being sold in India being designed for other countries and sold in India with some aggregate changes. Because of this difference in many applications there are breakdowns in graders that result in stoppage of work on site, however with RoadMaster motor graders simple design there are minimal breakdowns and even in case of breakdown the machine can be brought back into service very quickly as compared to complexly designed international motor graders
The second key insight was that all machines will break down at some point or other and when that happens how quickly can the machine be brought back to work. With RoadMaster motor graders we did this by making the machine simple and completely mechanical which any equipment maintenance person could easily check and verify with some telephonic guidance from our service engineer at site which helped our service team to quickly respond at site with spare parts, tools and personnel. In case of imported electronic graders a service engineer would have to firstly reach site to access the problem, then he would identify the cause and call for back up which resulted in unwanted production loss at the road construction site. With RoadMaster motor graders, the simple and "Made for India" design makes it better resistant to breakdowns and easy to check and repair.
The third key insight was the easy availability of spare parts. This was a problem with imported moor graders operating in India or graders assembled in India with imported parts. Many a times contractors had to wait weeks and not just days to get a small part for their grader because of which their entire site would come to a standstill. Also, the cost of the parts was a concern. With RoadMaster we could ensure that almost all the parts were manufactured in India which put us in a strong position to supply parts to our customers quickly without delay and with affordable prices not only saving the customers time in terms of downtime but also in terms of the money required for spare parts. With situations like COVID-19 which have disrupted the global supply chain, it becomes even more important to able to buy local to ensure uninterrupted supply of spare parts to ensure work continuity at site with a motor grader.
The fourth key insight was the ease of regular inspection and maintenance. This was more important in India because in other countries the machine operators are better educated and qualified whereas in India the education and qualification of an operator is mostly on the lower side. The likelihood of a machine being checked and greased regularly depends on the ease of doing the same. Many operators do not follow the regular checking, greasing, etc. because of the difficulty involved in imported graders due to the physical complexity of moving around the machine, however in case of RoadMaster motor graders the checkpoints have been integrated around places(clusters) which enables a single point quick check of multiple parts resulting in ease of checking and also in higher adherence to the activity.
The last and the most important parameter is the availability of spares stock at our dealerships across India. Unlike many other graders being sold in India, RoadMasters are only sold in areas where the dealer has ensured the minimum spare parts stocking required to ensure quick response to regular parts required as per the grader population in his/her respective area and in line with the company norms.
Added to this other important factors like lower machine cost, high quality of product, high quality grading finish, low fuel consumption and maintenance cost and it is not surprising to learn that within just 2 years from launch, Mahindra RoadMaster motor graders have reached 20% market share becoming the 2nd biggest motor grader equipment seller and probably the biggest manufacturer of motor graders In India by volumes in 2019. Many contractors who were hiring motor graders are also finding a lot of value in owning a RoadMaster over renting which has opened a new segment of customers for Mahindra.
With these positive sentiments in place it would not be surprising to see Mahindra RoadMaster to become the leading motor grader manufacturer and seller in India in 2020.