Future Growth Strategies for Industrial Equipment Manufacturers In India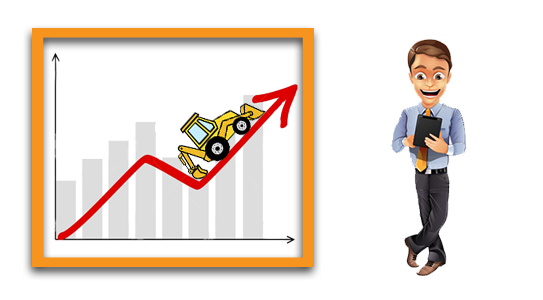 Here is a list of few strategies that can be adopted by the industrial equipment manufactures in the country to accelerate their growth in the future…

The industrial equipment manufacturing industry aids many other industries, supplying companies with highly specialised products and services such as material handling and earth moving machinery like backhoe loaders, excavators etc. The market is considered to be very competitive, with manufacturers seeking to anticipate demand, to deliver products, to reduce production time and offer increasing services. Thus, keeping in mind the increasing demand for industrial equipment, manufacturers need to constantly be on their toes.

We have listed down few strategies that can be adopted by the industrial equipment manufactures in the country to accelerate growth in the future.

Improving flexibility- Market experts believe that in future, increased flexibility of industrial equipment will write down their future and they are not wrong. An increasingly volatile and unpredictable Indian economy will require industrial equipment manufacturers to build more flexible and efficient operating machines.

Including intelligent features- Productivity and uptime are crucial drivers in the industrial equipment industry, where machine downtime can cost more than $1 million per day. Hence, what will define a bright future would be adoption of newer intelligent features and increased sophistication by the industrial equipment manufacturers.

Providing services- Growing demand for a wider array of both products and services has made service provision another way for industrial equipment companies to enhance their competitiveness in the rapidly changing market in future. Companies can either add services or solutions to their core products or integrate them in.

Creating new areas of value- In future, by systematically developing varied products and services including maintenance, repair and upkeep of traditional equipment, as well as by providing insights regarding emerging technologies, manufacturers could build a positive influence on their customers' value creation chain.

Giving value-added advice- Industrial equipment manufacturing companies could also think of another strategy for bonding with their customers. They can provide additional information about the potential future buying needs of end-users, creating new business opportunities for their products. In simple terms, to achieve high performance in a competitive business environment, companies will need to take a comprehensive approach to providing services as well as producing quality products.

Increasing visibility- In future, industrial equipment manufacturers will also need to work upon their visibility, branding and marketing in the market across the industry.

Collaborations and acquisitions- Market players in the segment would also need to find new ways to maintain and acquire their leading edge. Collaborating with other equipment companies could be the key to success. Alliance across industry due to the entry of more diverse and technology-driven products into the marketplace could also help.

Aiming at operational excellence- Last but not the least, surging demand for industrial equipment will be placing greater pressure on the manufacturing companies to keep their cost-per-unit steady. Thus, in future, maintaining or improving profitability will be a key to address this challenge. Assembling operational excellence teams focused solely on eliminating or minimising manufacturing process constraints, increasing production efficiency and generating the largest bottom-line returns based on specific profitability and value targets will help stabilise costs.

Industrial equipment manufacturers who will adopt the actions described above will be in a better position to meet current and future demand.

Bright future There have been several important trends in the industrial equipment sector over the years and the market is supposed to grow at a CAGR of 4-5 per cent until 2016 and the revenue is expected to reach $500 billion. Hence, the industrial equipment manufacturers in India have all the reasons to smile.