What Next After Owning a Backhoe Loader to Maximise Profitability?
Backhoe Loaders (BHLs) are generally highly priced and involve a lot of initial capital investment, hence, one need to plan a lot before making the purchase decision. However, if you have crossed this barrier of owning a BHL, here comes the next challenge as to how to maximise the profitability with your BHLs as merely owning a BHL does not make you a good businessman. In fact, it is how you use your resources, in this case the BHLs, to increase your profit margins and ROI in the long run, makes you a good businessman.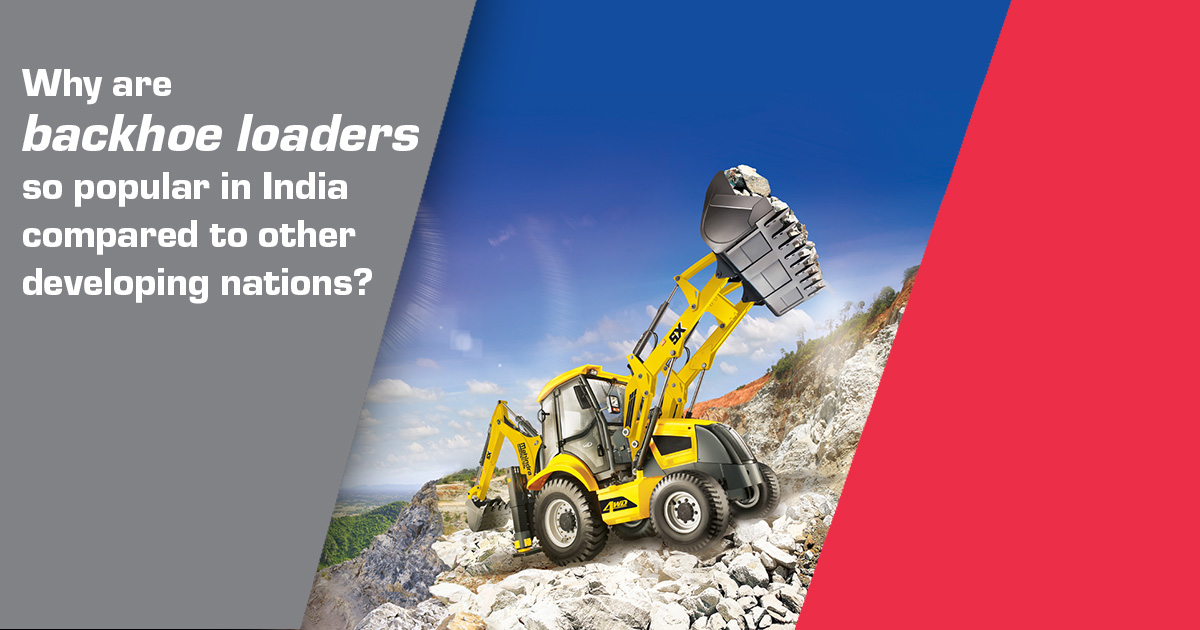 How to think like a businessman and maximise profitability with BHL?
Here are some ways through which you can maximise your profits and be a good businessman...
1. Use BHLs for diverse jobs: You can use your BHLs not only for earthmoving tasks at the construction or mining site but for a host of jobs at various sites. Hence, you as a BHL owner can cater to various clients from very different domains. That said, all the three pieces of BHLs i.e., tractor, loader and backhoe are suited to do various sorts of work. The backhoe tractor is designed to move easily over the rough terrain. While the loader is attached in the front and is designed to do several tasks like picking and carrying large amounts of loose materials from one place to the other and pushing dirt, backhoe is attached at the back and is used to dig up hard and compact material, usually earth or to lift heavy loads.
Apart from performing the above-mentioned basic tasks, BHLs can also do jobs like digging ditches, laying pipes, planting underground cables or laying the foundation for buildings and drainage systems and with few additional attachments, they can do much more. If an augur is attached to the backhoe, it can be used to drill holes for planting trees, signs and fencing projects in a variety of soil types. By joining a trenching bucket at the rear, tasks like cleaning the ditch and trenching can be easily done with the BHL. In fact, the 6-in-1 bucket option available on Mahindra EarthMaster offered by Mahindra Construction Equipment (MCE) can perform six different functions, making it capable of handling most of the tasks required from the loader in a BHL including dozing, dumping, loading etc. Apart from the above, various other attachments are also available which can be easily attached to the Backhoe Loaders to perform several other jobs. Thus, you can put your BHLs to various tasks.
2. Maintain the equipment regularly: In order to deliver the best performance and increase jobsite productivity and safety, it is necessary that you maintain your BHL properly and regularly which is exposed to wear and tear due to their extensive usage for various applications. This makes preventive maintenance necessary and can help the BHLs to run at the peak power and efficiency. Also, preventive maintenance helps in cutting down the operating costs over a period of time by helping in avoiding expensive repairs and this can increase the life of the BHL. Further, BHL maintenance is necessary to ensure that you get the most from your investment and see the machine utilised to its maximum capacity. There are various tips and tricks for BHL maintenance like cleaning the equipment properly, keeping various parts of BHLs properly greased, keeping the oil in the equipment clean, paying attention to equipment tires and most importantly carrying out daily inspection to prohibit the occurrence of unplanned downtime. Overall, this step of maintaining the equipment regularly can increase your profitability in the long run.
3. Hire a trained Backhoe Loader operator: BHLs are highly technical equipment, hence, it is better that you employ trained and skilled operators who know the tricks of the trade and can safely handle the equipment as it goes without saying that any wrong move can cause heavy damage to the operator, equipment and even the people on the jobsite. In fact, BHL operators can also help in maintaining the equipment. Overall, having trained BHL operators can have a huge impact on the equipment's performance and productivity and can give good and timely results leaving your clients impressed and motivating them to come back to you for future projects. What more? Timely project completion can increase the brand value of your business in the market, which in turn can help you to get new clientele.
Thus, above mentioned points are some of the steps that can be taken by the BHL owners to expand their business and profits considerably.
In a nutshell
Merely owning a BHL will not make you a successful businessman. In fact, you need to take various steps to increase your profitability. These essentially include catering to varied clients as your versatile BHL can be used for different tasks, paying due attention to the equipment and maintaining it properly and hiring a trained and skilled BHL operator who knows the essential tips and tricks to do the work fast and can help in boosting the performance of the equipment.
Well, here it needs to be mentioned that if you have purchased technologically-advanced Mahindra EarthMaster Backhoe Loader from MCE, then you should know that it comes with REMOTECARE, Joystick controls and various attachments and has Banana Boom that has a higher reach than the standard boom, allowing for greater depth of digging and a bigger working circle. The equipment also offers best-in-class fuel efficiency and is environment-friendly and possesses the capability of sustaining extended service intervals among others. Thus, with Mahindra EarthMaster, your path to success can become much smoother because this equipment with all its features can increase your profitability in the long run.