Why the Backhoe loaders are here to stay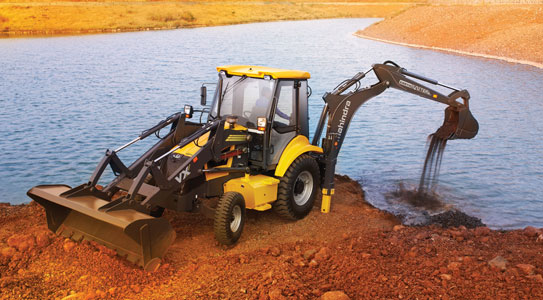 Backhoe loader while being one of the most versatile equipment's in the construction industry, is largely under-used compared to its potential. Backhoe loaders are usually used for excavation and loading jobs. Their biggest advantage is that they are compact and consolidate the tools for different jobs like excavating and then loading the same in one unit. Versatility of this particular piece of machinery deserves much more credit than what is bestowed upon it.
Backhoe loaders are commonly used for a wide variety of tasks: construction, small demolitions, and light transportation of building material, powering building equipment, digging holes, breaking asphalt, and paving roads. Replace the bucket with power attachments like breaker, grapple, auger, or a stump grinder and the backhoe can taking on a host of additional tasks on the job site. Versatility is a major plus for this piece of machinery.
The backhoe loader can travel on road and site surfaces. This makes it much easier to have the backhoe working on different tasks on different locations on the construction site. Another plus to the backhoe compared to the excavators which themselves are slow and at times need to be transported.
There is no doubt to it when one claims that backhoe loaders considerably increase productivity thanks to its sheer power and capacity. They are known to be able to carry heavier loads for longer durations of time. Add to it the boom and stick which helps with height, which the excavators lack. It is efficient and saves both time and money when on the job.
Versatility, sheer strength, power and agility already make the backhoe a requisite on construction sites. Add to it the latest available tech and you will know for a fact that the backhoe loader is here to stay.