Construction Industry as Career
Construction Industry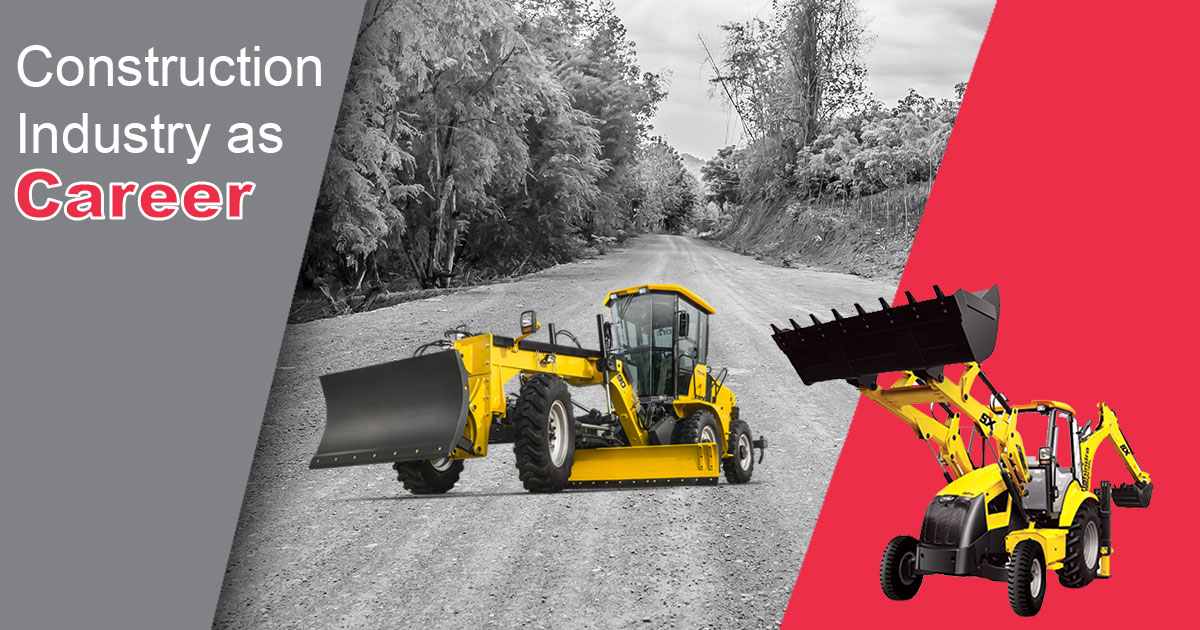 In technical terms building manufacturing or repairing of structures constitutes construction industry. However, it is not always building. Sometimes we need to destruct structures to make new. The construction industry is very lucrative, and it offers different types of earning opportunities for anyone. Construction industry provides a variety of occupation option both for job seekers and entrepreneurs. Creating structures takes a lot of activities and different business segments to involve and create anything.
Scope of Construction Industry
Going through the history, we can see the prosperity of any civilisation is linked with the structures they build. The better the structures, planning and construction the better is the civilization. The beauty is that it is an everlasting activity. Humans will never stop building anything. And construction work will go on and on. The construction in addition to producing structures also adds to productivity and quality of life. economic development, modernization westernization and specially industrialisation.
An Individual can start career in Construction industry at any point. The industry is providing major jobs to the ever-growing population of our country. Depending on the qualification of person every person has a role that can be fit in this industry.
Classification of Construction Industry
Majorly Construction business is divided in to two sectors:
Residential: Work related to direct habitat of human beings
Non-Residential: Work related to indirect development of Humans. Further divided into industrial and infra structure.
Above are 2 broad classification based on direct and indirect relation with human beings. These sectors are further divided into many branches. The industry does not include a direct activity of building something. For building anything we need Finished and unfinished materials to be brought together. Hence drilling further down to both these sectors of Construction business we will find many manufacturing, logistics and other services operational because of construction.
Residential Construction work:
A home is the biggest investment most people will ever make. They dream about owning a home and work to get there. Whether building a brand-new home or renovating an existing home, skilled trades are in the business of helping people realize their dreams. It is starts from the basic small hut to a multi storied residential apartment. Both urban and rural opportunities are open for business. There are two main types of businesses in this sector New home builders, Both at small and big level. This includes all activity related to building new houses, bungalow, a multi-story and Renovation contractors, they include repair and refurbishment of already made residential buildings.
Non-Residential Sector Work: This is big and can be subdivided into industrial and infrastructure sector. Here yellow iron provides the muscle and big machines rule.
Industrial Construction: If you like playing with trucks in the sandbox as a kid, If you like being outdoors and living in new places, If the power of a monster truck give you goose bumps You can operate some of the biggest trucks in the world working in this sector. We're talking trucks the size of two-storey houses! And there's a ton of other ginormous equipment to get excited about, too. Working in heavy industrial, you'll help to build huge industrial facilities like power plants, refineries, nuclear plants, mines, oil and gas refineries, pipelines, textiles and other commercial factories.
Infrastructure: Infrastructure refers to a facility required for providing/supporting any services/events. For example, setting up a research centre in some remote location requires laboratory, instruments, electricity, internet, roads for access, vehicles, residences for workers etc. All these facilities needed to operate research work is an infrastructure. Comparing in terms of engineering we can say Infrastructure is an engineering job while Construction is solely a civil engineering job.
Machines and Construction Business:
This is another big business evolving with technological advancement in construction techniques. Machines have become an integral part of any construction as it makes the work easier, faster and with less error. Depending upon the scale of business and the size of construction activity machines can be either purchased or hired for any application. In India, the construction equipment leasing is growing fast and to start with if you do not have any engineering skill set you can start your rental business just by buying a specific machinery and deploy it on rental income. Youth in India can start their income by deploying machines to the bigger or smaller construction projects running around the country. Having the right machine and good business sense will make you prosperous soon. To start with one should initially always opt for a versatile machine such as backhoe loader, tractor, Loaders or dump trucks. Rental business if managed rightly can be run as a side business and one can devote his time for other sources of income.
Conclusion
The construction industry is an evergreen field. Having acquired educational qualification or skill set in any of the construction activity will never go in vain. As lot of new developments are taking place in this sector. Starting a business related to construction sounds highly profitable.
There is a wide range of activities carried out in the construction industry like renovation, interior, and repair. All the edifices, bridges, dams, roads, estates, campuses, shopping malls, office complexes, skyscrapers and massive structures that you see around today, are all products of the construction industry.
Further the Rental machinery business is also a good opportunity in this sector.
Considering the above Facts, this is one of the best career options one could opt for and start his own construction business.