India - The Best Place for Investing in Construction Equipment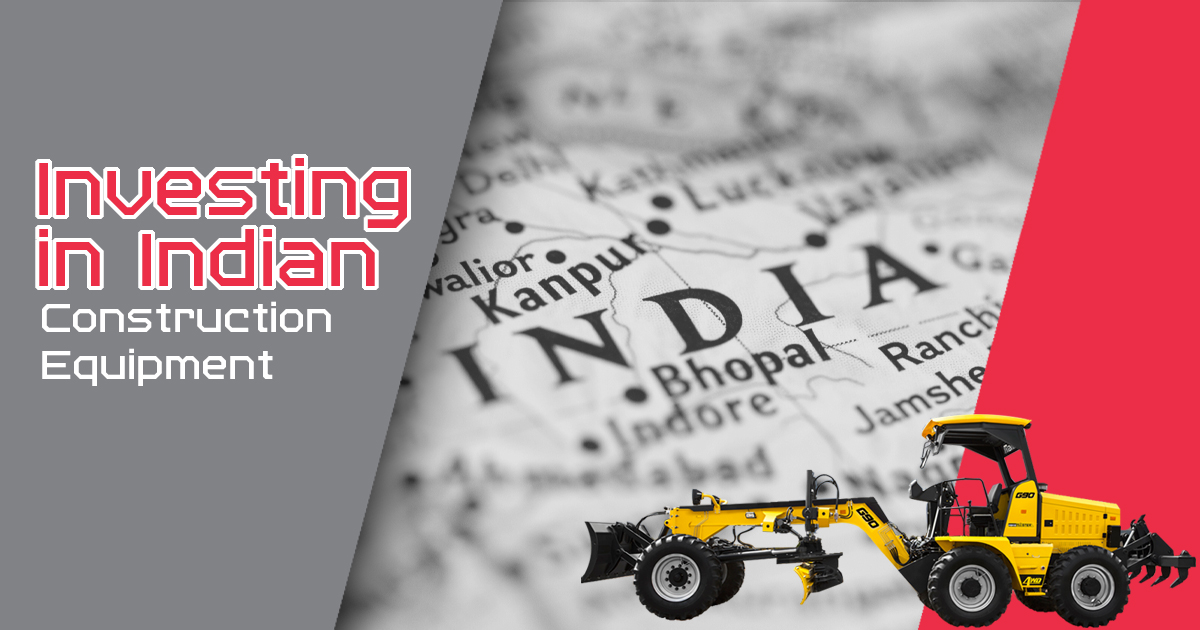 The Construction Equipment (CE) market in India is growing at a very fast pace due to increased impetus being laid by the government on development of the country's infrastructure. In addition to this, rapid urbanisation, increasing foreign investments, growing mining industry and surging demand for customised equipment are few of the other major factors which are propelling the demand for CE in India.
As per a report released by Indian Construction Equipment Manufacturers Association (ICEMA), "The Indian construction industry is expected to grow to $5 billion by 2019-2020." These numbers clearly prove that India is going to see a major CE revolution in the coming years and it is the right time for the interested parties to make an investment in CE in India.
A brief note on CE market in India
Before discussing in detail the projects, plans, factors and future that will make India the best place to make an investment in CE in the coming years, we need to first understand as to what constitutes the CE market. Typically, the CE sector in the country is made up of five main segments. These include earth moving equipment, road CE, concrete equipment, material handling equipment and material processing equipment. The earth moving equipment and road CE segment account for close to 70 per cent of Indias CE market. The concrete equipment is the second largest segment with a market share of approximately 14 per cent. Material handling equipment and material processing equipment segment account for 10 per cent and 6 per cent of the market respectively.
According to Sameer Bansal, Director, Off-Highway Research India, "CE sub-sectors such as earth moving, road construction and material handling equipment saw 36 per cent growth in 2016 and a further 17 per cent rise in 2017 with a new peak of 78,109 units. The sales of these equipment is expected to increase further by 8 per cent during 2020 and 2021 and by 6 per cent in 2022 to peak at 110,815 units."
What makes India a lucrative destination for investing in CE in the present and future?
1. Growing infrastructure sector:
Infrastructure sector which includes power, bridges, dams, ports, railways, roads, real estate and urban infrastructure is highly giving a boost to the CE industry in the country.
Particularly, it is the roads and highways sector in the current infrastructure development scenario which is expected to be the main growth driver for the CE industry followed by railways, irrigation and ports. This is because the budgetary allocation for National Highway Authority of India (NHAI) was increased by 10 per cent to Rs 916.63 billion in the 2018-19. Also, the government is aiming to develop the Golden Quadrilateral connecting four major metropolitan cities viz. Delhi-Mumbai- Chennai-Kolkata. Construction of North South and East West Corridors (NS-EW) connecting Srinagar to Kanyakumari and Silchar to Porbandar with a spur from Salem to Cochin is also on cards of the government. Government is also aiming at six laning of existing four-lane highways. Also, increased impetus is being given to the development and maintenance of rural roads under Pradhan Mantri Gram Sadak Yojana (PMGSY).
Apart from this, various other big ticket infrastructure projects have been announced by the government. These include Smart Cities Mission, Bharatmala Pariyojana, Sagarmala Programme for modernisation of ports, increasing connectivity and port linked industrial hubs, airport development and upgradation program, Jal Marg Vikas, Atal Mission for Rejuvenation and Urban Transformation (AMRUT), Housing for All and Diamond Quadrilateral for high-speed railways, river linkages and bullet trains.
Even the rural infrastructure development has picked up the pace in the country. The government is looking to construct 3.17 lakh km of roads, 51 lakh new houses, 1.88 crore toilets and providing electricity connections to 1.75 crore new households in the year 2018-2019 in the rural areas. Obviously, all these projects and developments would demand CE and this will give an overall boost to the various CE sub-segments in the country in the present times as well as in future.
2. Growth in the construction activities:
As per the report from ResearchAndMarkets.com, the CE market is expected to grow at a CAGR of 6.8 per cent during Financial Year 2018-Financial Year 2024 on account of the countrys expanding construction industry. It is also believed that by 2025, construction market in India will emerge as the third largest globally. This growth in the construction sector is supposed to have a direct impact on the CE sector as more and more CE would be needed to fulfil the needs of modern construction sites.
3. Increasing need for mechanisation:
Till recently, construction activities in India used traditional methods which were slow and archaic. Now, gearing up to the new realities of timely project execution with a bonus clause for early completion, quality output, higher productivity, reliability and safety and various infrastructure projects on hand, the focus is shifting towards innovation, automation and advanced technologies. Today, there is an increasing need for modernised and mechanised methods of construction and thus, more and more CE with newer intelligent features like remote access devices, automatic controls and increased sophistication as against the manual labour are being demanded. It is believed that for every 0.5 per cent increase in mechanisation, the CE demand would rise by $30-35 billion.
To sum up
Looking at the above factors, it can be safely concluded that India among all the developing countries is growing as one of the best places to make investment in the CE sector. Given the fact that the country requires about $7 trillion infrastructure investment over the next seven years and for that the government has already started taking proactive steps, it is clear that this would impact the CE business greatly.
Anticipating the huge growth of CE segment in the country, many national and international CE manufacturers have started making their presence felt in the country. Particularly, Mahindra Construction Equipment (MCE) amongst the others is playing a definitive role in providing further boost to the CE segment in the country. With its offerings i.e., Mahindra EarthMaster backhoe loaders and RoadMaster motor graders, the company is gearing up well to embrace the projected growth of CE sector in the country with grace.
In future, looking at the unprecedented growth of CE sector, gradually, various other big CE manufacturers are expected to move aggressively into India so as to give their support in the country's drive to build world-class infrastructure.
So, if you as a contractor or construction company owner are thinking about investing in CE in India, then definitely it is the right time and India is the best place for making an investment in the construction equipment sector.