Tips to Get the Most Out of Your Rock Breaker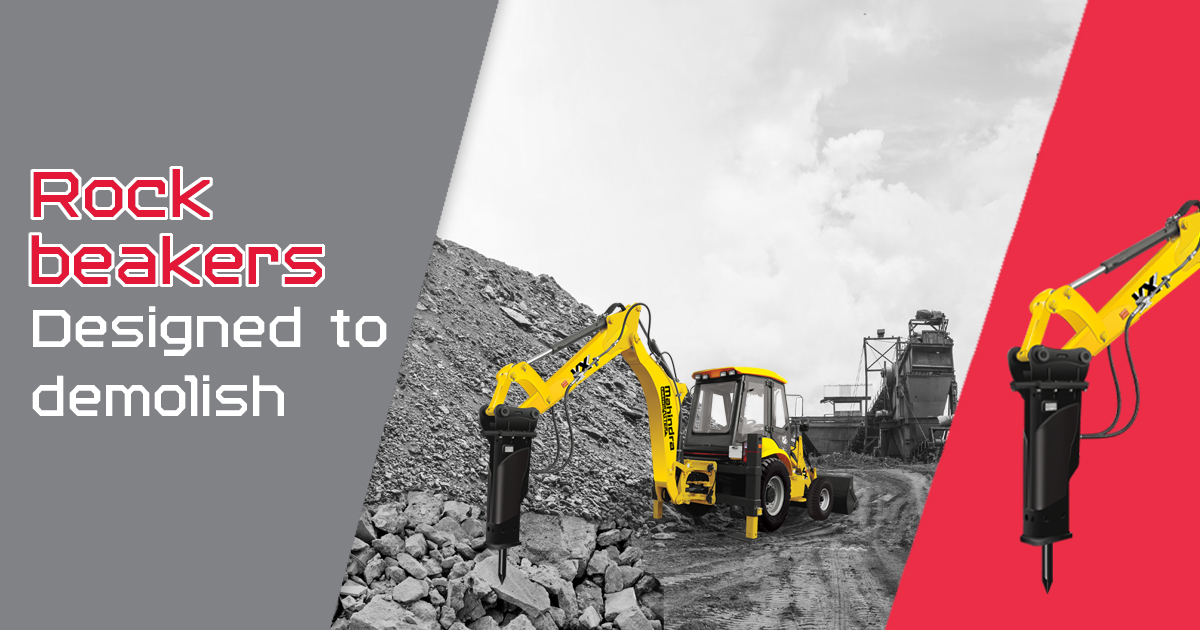 Designed to break large rocks, rock breakers or generally called as hydraulic hammers, as an attachment to backhoe loaders, excavators etc., are generally used in the mining industry where oversized rocks are too large or hard to be reduced in size by a crusher. A hydraulic hammer to break rocks and a boom (arm) are two major components of the rock breaker. There are two major types of rock breakers i.e., mobile and stationary, typically placed on a pedestal or slew frame.
Generally, rock breaks are used to perform various tasks. These include...
1. Rock mining without blasting: Rock breakers are used for primary rock mining to increase productivity and save time. The rock breakers can in fact reduce the load on the primary crusher, thereby, increasing the latter's output. Rock mining without blasting is also environment-friendly as the blasting emissions are eliminated. Also, this method boosts safety at the site as there are no flying rocks in the air.
2. Secondary reduction: In cases when the blasted rock is too big to be handled by loading equipment or the crusher, the importance of secondary reduction comes into play. Even with the most advance blasting techniques, it is inevitable that there will be oversize boulders and these need to be broken as economically as possible. It is in such cases that rock breakers come handy than the crusher.
3. Demolition: Rock breakers are very much suited for the demolition tasks. They are commonly used to break down concrete structures.
4. Other uses: Rock breakers can also be used for other operations such as tunnelling and excavating and trenching.
How to get the best out of the rock breaker?
Keeping in mind the functions performed by the rock breakers, it cannot be denied that they are an important attachment with backhoe loaders or excavators and need to be maintained well to give good results. Here are some top tips to get the most out of your rock breaker...
1. Visual inspection of the rock breaker: It takes only few minutes to visually inspect the rock breaker for any wear and tear. Visual inspection should be done after every use of the rock breaker. This can help you identify any worn or damaged components and prevent unexpected downtime. The visual inspection checklist should include checking hydraulic hoses, the breaker shell, attachment pins, tool retainers and locks and the tool point for any cracks or gouges.
2. Greasing the equipment: This is an extremely important step because it helps in lubricating and clearing the tool bushing area of debris. Thus, rock breaker should be greased at regular intervals. When greasing the rock breaker, manufacturer's recommendations should be followed. To quote an example, there could be seal damage or even a catastrophic failure if the grease is added before properly positioning the breaker. Another example could be that too little grease could cause the bushings to overheat, seize and damage tools. Ideally, greasing should be done every one to two hours to reduce build-up, tool wear and bushing wear.
3. Inspecting the nitrogen pressure: Some breakers feature nitrogen gas assist systems that work with the hydraulic oil to accelerate the breaker's piston. In these cases, it is necessary to maintain and fill the nitrogen reservoir as needed for consistent power and output. The proper nitrogen charge pressure depends on the application and outside working temperature. The nitrogen level required for breaking rocks is different from what is required for breaking concrete in a parking lot. Here, the attachment's operation and maintenance manual can come to help as it will have the mentione about the nitrogen pressure setting for your application and working temperature.
4. Performing regular checks: It is necessary to regularly check the wear status of chisel, bushes and chisel pin. Excessive wear of bushes and chisel can cause chisel head and piston damage. Rock breaker parts are easily available in the market and they can be bought to bring back the rock breaker into a good working condition.
5. Servicing the rock breaker on a regular basis: The durability of the rock breaker can be increased by servicing it on a regular basis. Rock breakers can be repaired or rebuild to give good results.
Apart from the above, the other few things that should be kept in mind include:
1. Always follow the rock breaker specifications written in the owner's manuals, catalogues and brochures.
2. The rock breaker should never be used in a 'lever' motion. Also, the rock breaker should not be dropped on the object which is to be broken as it can damage the rock breaker and the equipment on which it is attached.
3. The impact point should be moved from the edge to the centre for achieving best working efficiency.
4. The tool point should be matched to the respective application to significantly maximise jobsite production and extend the breaker's life.
5. In order to effectively break material, each breaker must be properly sized to a specific carrier's performance. Energy can be displaced and this can diminish the breaker's impact on the material, if the breaker is too large for the carrier. Alternatively, if the breaker is too small, it can put excessive pressure on the working steel and other mounting components, thereby, causing damage.
Thus, by following the above-mentioned tips, you can ensure that your rock breaker gives maximum result at the jobsite and its life is extended considerably. While there are many companies which manufacture rock breakers which are very efficient but one that deserves a mention is Mahindra Construction Equipment's (MCE) rock Breaker.
Rock breaker offered by MCE
MCE offers various attachments with its Mahindra EarthMaster backhoe loader and Rock Breaker HD is one among them. The rock breaker from MCE can be used for various applications. The features of rock breaker from MCE which makes it different from the others include:
1. Accumulator: High pressure surge dampener for protection of base carrier hydraulics.
2. Piston: Superior design, metallurgy and manufacturing render long life and trouble-free service.
3. Internal valve design for higher efficiency.
4. Can work in under water applications.
5. Auto greasing hole for break-free operation.
6. Back head design powers the breaker by stored gas.
7. Easy to charge and maintenance free.
8. Perfected clearance of cylinder allows longest service life in tropical climates.
Given the above features, definitely rock breaker from MCE can be your best bet for applications such as rock cutting, road cutting, pipelines, footings, demolitions and trenching.
To sum up...
In the coming years, the major drivers for growth of rock breakers would be the road and infrastructure industry and positive outlook of the mining industry that will lead to the increased demand in aggregates. So, it is right time that you arm your fleet with the best rock breakers to keep up with the growing demand.