Why are Backhoe Loaders so popular in India Compared to Other Developing Nations?
Given the usability and versatility of Backhoe Loaders (BHLs), they are the high-selling equipment all over the world. Earlier, their demand was majorly seen in the developed nations but with the increase in number of infrastructure projects and construction activities in the developing countries, BHLs' demand is increasing there too. That said, particularly, the BHL demand is increasing in India as compared to other developing nations due to huge investments made by the government and private sector in infrastructure development and construction segment. In fact, with villages and farmlands giving way to more industries and buildings, there are whole of lot construction activities that are happening in the country and this is posing good demand for BHLs. Here, it goes without saying that for all these activities, backhoe is a key component.
In fact, today, backhoe loader accounts for nearly 65 per cent of the Construction Equipment (CE) segment in India. So, what makes BHLs so popular India? Well, BHLs are most popular CE in India because they can be used for multiple purposes and can easily travel on roads. In fact, they can be used for numerous applications including digging, demolitions, excavating, breaking asphalt, laying roads, transporting materials, levelling, loading and much more at the jobsite with additional attachments. Thus, one equipment with right attachment can perform various tasks and this is making them very popular in the country which is seeing massive infrastructure development today.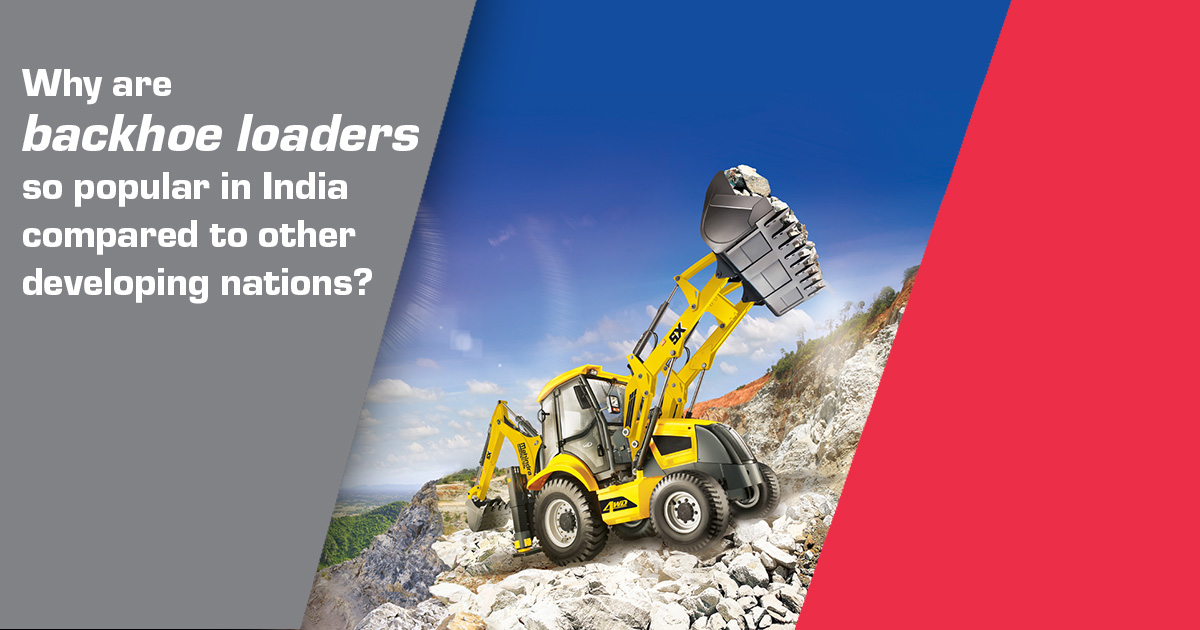 Reasons for the growth of BHLs in the India
1. Investment in infrastructure by the government in India is the major underlying factor driving BHL sales.
a) In the Budget 2020, government has allocated Rs 1.7 trillion to improve connectivity via road, rail, air and waterways. Special focus has been given to highway construction.
2. New infrastructure funding, reforms and procedures are also likely to stimulate the growth of the BHL segment in India.
a) In December 2019, government launched ₹102 trillion worth infrastructure projects under national infrastructure pipeline (NIP) to develop social and economic infrastructure in the next five years.
b) To enhance air connectivity, government has proposed to build 100 more airports by 2024 in Budget 2020.
3. The undertaking of highway and rural road development programs in India is also paving way for the demand for BHLs.
a) In Budget 2020, government has mentioned that accelerated development of highways will be undertaken which will include development of 2,500 km access control highways, 9,000 km of economic corridors, 2,000 km of coastal and land port roads and 2,000-km of strategic highways.
b) Also, Delhi-Mumbai expressway that is currently in the works is expected to be complete by 2023.
4. Agriculture and irrigation projects are also providing momentum to the growth of the backhoe market.
5. Land development, building construction and industrial development projects are also adding to the growth of the BHL market.
6. Unlike other CE, demand for BHLs is supported by the fact that they are highly multi-purpose equipment and can perform variety of tasks with ease.
7. The backhoe rental sector is further expected to drive the growth of the BHL market.
8. Shortage of manual labour in India is another significant factor which is likely to contribute to the growth of BHLs in the long term.
9. As against manual labour and traditional methods, BHLs lead to improved quality, timeliness, better project financials and safety. India has realised this fact and hence, BHLs are gaining immense popularity in the country.
10. Last but not the least, another factor that has increased the popularity of BHLs in the country is Indian-made BHLs best suited for the Indian needs. At present, there are many companies in India manufacturing such BHLs.
a) One of the most noted companies is Mahindra Construction Equipment (MCE), which manufactures revolutionary BHL—Mahindra EarthMaster which is highly reliable and safe and is built to suit the Indian needs and can withstand Indias rough terrain and heavy usage. The equipment comes with intelligent communication system i.e., REMOTECARE, Joystick controls, 6-in-1 bucket option and various attachments and has Banana Boom, allowing for greater depth of digging and a bigger working circle.
Future of the BHL market in India
Given the reasons above and due to the rise in the infrastructural development projects and increased spending on the construction activities, the BHL market in the country is only expected to grow further in future. If facts are to be believed, then as per Off-Highway Research, sales of the BHLs in India is expected to increase from the 21,192 units sold in 2015 to 28,000 machines by 2020, resulting in a 32 per cent increase. Thus, undoubtedly, backhoe loader in the country have all the reasons to smile as they are the most popular CE in India and will continue to be so in the future as well.