The Initial Fear that One has Before Purchasing a Backhoe Loader
In the earthmoving and Construction Equipment (CE) category, Backhoe Loaders (BHLs) are one of the most popular equipment as they are highly versatile machines and can be used for multiple purposes. Despite their great usability, efficiency and popularity, still many contractors or construction company owners have a lot of doubts before buying BHLs.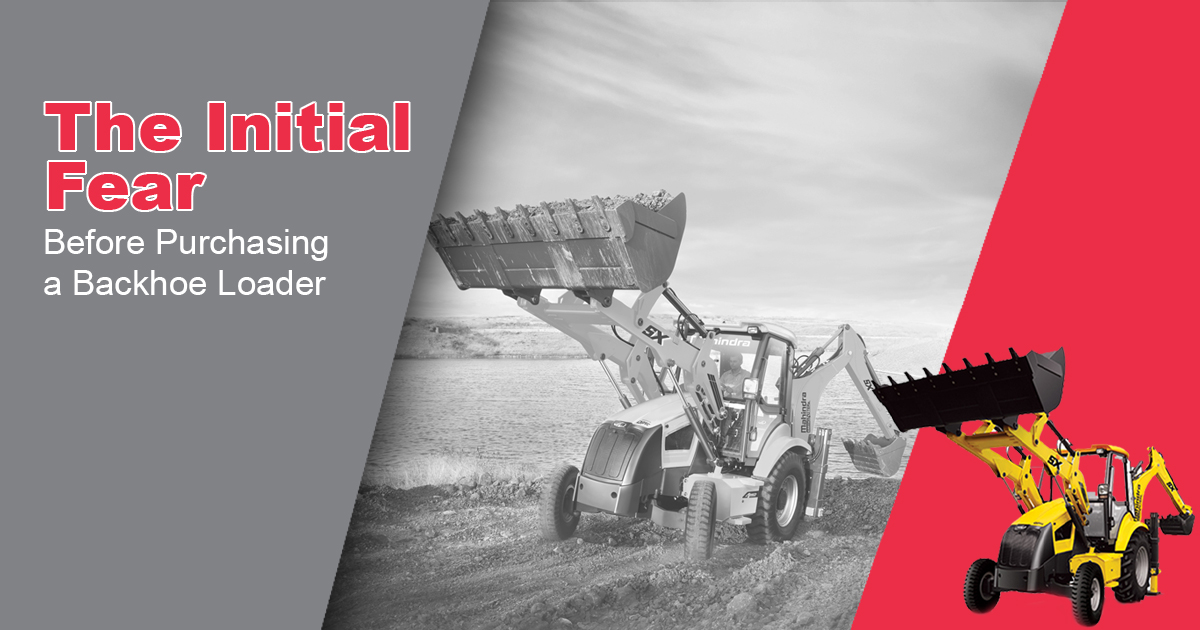 Here is a look at all the initial fears that contractors or construction company owners might have before purchasing a BHL and why these fears are baseless... 1. Bachkoe Loaders are very expensive: There is no doubt about the fact that Backhoe Loaders are costly equipment and require a good initial investment. However, one cannot negate the fact that buying a BHL can give good returns on investments in future and greater flexibility as equipment is always available with the contractors. 2. BHLs have limited usage: Many contractors or construction company owners have a belief that BHLs can only be used for limited purposes and hence, they think that when the current task is over at the jobsite, the equipment would sit idle and hence it would not justify its purchasing cost. Well, the fact of the matter is that BHLs can be used to do a variety of tasks like moving dirt, backfill, digging trenches, crushing, loading jobs such as RMC, crushers, coal plants, brick kilns, sugarcane plantations etc. They can also be used for pole erection work, small demolitions, laying pipes, road construction, etc., when used with different attachments. Various types of attachments include forks and grapples, various digging buckets, rock breakers and other hydraulic-driven attachments like concrete saws and cold planners and many more. These attachments can help the contactors to perform a broad range of tasks, increasing productivity and maximising the use of BHL. So, if one task is over, can be employed for another task. 3. BHLs are not fuel-efficient: Given the increased fuel prices, it is obvious for contractors or construction company owners to worry about fuel efficiency of BHLs. However, it is to be noted that these days, most of the technologically-advanced BHLs are highly fuel-efficient. The Mahindra EarthMaster is highly fuel efficient and gives 4.5L/hour of diesel consumption. Backhoe Loaders incur huge repair and maintenance cost: While it is true that maintenance of BHLs can be costly. It can be lowered significantly if done at regular intervals and as per the manufacturer's policy. If done right, the BHL's and its components' lifecycle is extended, and machine downtime is rarely a concern. If regular maintenance is not done, however, it will end up costing you even more when the machine suffers a breakdown. Hence, keeping in mind, the above points, it can be concluded that there is no need to have any fear before purchasing the BHL as they have huge advantages to offer at the construction site. Particularly, if the BHL that you as a contractor or construction company owner are thinking to buy is Mahindra EarthMaster, there is no need to have any fears before or even after purchasing the BHL. This is because equipped with superior technologies like REMOTECARE feature and joystick, DITEC Engine, Banana Boom design, superior style and premium looks, operator comfort and low maintenance cost, Mahindra EarthMaster can offer a host of benefits to the contractors or the construction companies and undoubtedly drive profitability in the business. To sum up... Given the usability, versatility and efficiency of BHLs, it is unfounded to have initial fears before purchasing the equipment. Further, if the equipment is Mahindra EarthMaster, then you don't have to worry at all. So, as a contractor or construction company owner, have you made up your mind to buy the BHL for your construction site, leaving aside all the fears? If not, then the time has come for you to think and make up your mind for purchasing the Bachkoe Loader that can take you to new heights.