Global and Domestic Factors Influencing the Construction Equipment Industry in India
The Construction Equipment (CE) market in India is growing at a very fast pace due to increased impetus being laid by the government on development of the country's infrastructure. In addition to this, rapid urbanisation, increasing foreign investments, growing construction industry and surging demand for customised equipment are few of the other major factors which are propelling the demand for CE in India. Here is a look at all the global as well as domestic factors that are pushing the demand for CE in India.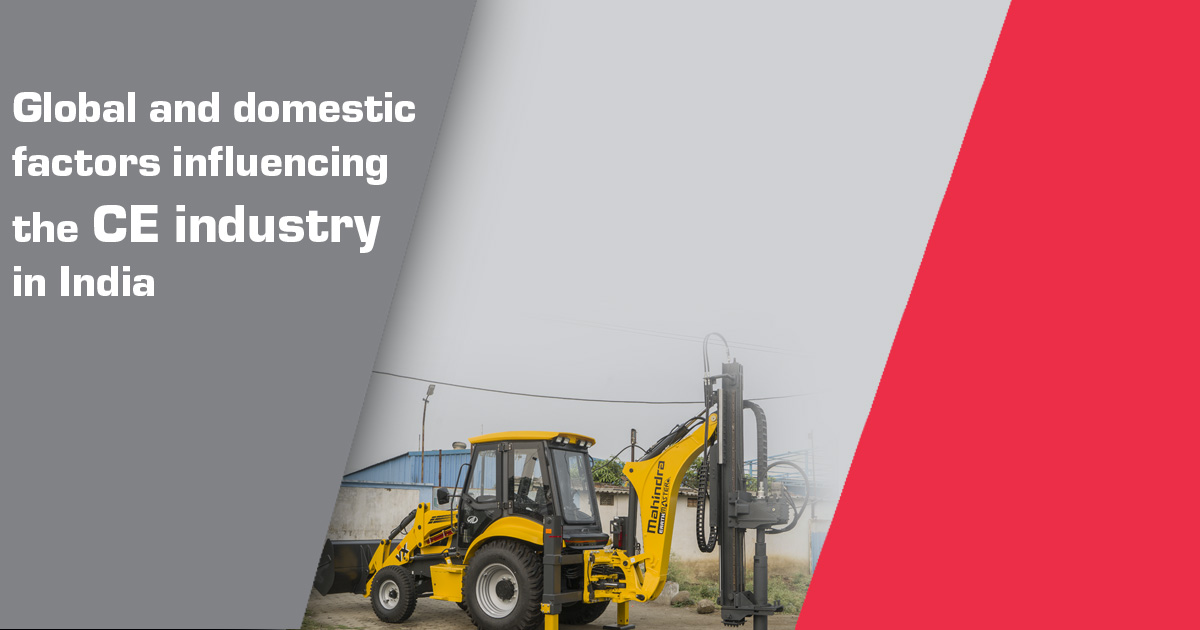 1. Increased impetus given to infrastructure sector:
Particularly, it is the roads and highways sector in the current infrastructure development scenario which is expected to be the main growth driver for the CE industry followed by railways, airports and irrigation. This is because, in the Budget 2020, government has allocated Rs 1.7 trillion to improve connectivity via road, rail, air and waterways. Special focus has been given to highway construction. In fact, in the Budget 2020, government has mentioned that accelerated development of highways will be undertaken which will include development of 2,500 km access control highways, 9,000 km of economic corridors, 2,000 km of coastal and land port roads and 2,000-km of strategic highways. Also, Delhi-Mumbai expressway that is currently in the works is expected to be complete by 2023.
Further, to enhance air connectivity, government has proposed to build 100 more airports by 2024 in Budget 2020. In addition, in December 2019, government launched ₹102 trillion worth infrastructure projects under national infrastructure pipeline (NIP) to develop social and economic infrastructure in the next five years.
Apart from this, various other big ticket infrastructure projects have been announced by the government in the past few years. These include Smart Cities Mission, Bharatmala Pariyojana, Sagarmala Programme for modernisation of ports, increasing connectivity and port linked industrial hubs, Jal Marg Vikas, Housing for All and Diamond Quadrilateral for high-speed railways, river linkages and bullet trains. Even the rural infrastructure development has picked up the pace in the country. Obviously, all these projects and developments demand good CE and this has given an overall boost to the CE segment in the country.
2. Growth in the construction activities:
As per the report from ResearchAndMarkets.com, the CE market is expected to grow at a CAGR of 6.8 per cent during Financial Year 2018-Financial Year 2024 on account of the countrys expanding construction industry. This growth in the construction sector is supposed to have a direct impact on the CE sector as more and more CE would be needed to fulfil the needs of modern construction sites.
3. Increasing need for mechanisation:
Till recently, construction activities in India used traditional methods which were slow and archaic. Now, gearing up to the new realities of timely project execution with a bonus clause for early completion, quality output, higher productivity, reliability and safety and various infrastructure projects on hand, the focus is shifting towards innovation, automation and advanced technologies. Today, there is an increasing need for modernised and mechanised methods of construction and thus, more and more CE with newer intelligent features like remote access devices, automatic controls and increased sophistication as against the manual labour are being demanded. It is believed that for every 0.5 per cent increase in mechanisation, the CE demand would rise by $30-35 billion.
4. Increased foreign direct investments:
In past few years, Foreign Direct Investments (FDIs) in infrastructure projects have increased considerably in the country. For example, India signed a USD 500 million (Rs 3,371 crore) loan pact with World Bank in 2018 to provide additional financing for Pradhan Mantri Gram Sadak Yojna (PMGSY) rural road projects to build 7,000 km of climate-resilient roads. Likewise, many other contracts have been signed by India with foreign banks or nations.
To sum up
There is no doubt that Indian Construction Equipment industry is growing at a very fast pace. Positive developments in economic conditions, improvement in investor confidence and investments in transport infrastructure, energy and housing projects is helping the Indian CE industry to grow considerably in last few years.
Looking at this, all the CE manufacturing companies in India are gearing up well to cater to the growing demand. Particularly, Mahindra Construction Equipment (MCE) amongst the others with its offerings i.e., Mahindra EarthMaster backhoe loaders and RoadMaster motor graders is leaving no stone unturned to embrace the projected growth of CE sector in the country with grace.