Upgrading Used Construction Machines can Drastically Improve Business
Construction equipment segment in the country is growing at a fast pace and is constantly witnessing introduction of upgraded machines with newer technology. This is increasingly making the old and used Construction Equipment (CE) obsolete as their newer counterparts are hitting the market. Here, it is worth mentioning that the new and technologically-advanced CE are much more efficient and lead to better productivity at the jobsite. Thus, up-gradation of used CE by replacing it with new equipment is becoming the need of the hour.
Here is a look at all the benefits of upgrading the used CE and how it can drastically improve the business...
1. Increases productivity: Often old and used equipment can lead to heavy wastage of man-hours as they are slow and outdated. On the other hand, new and better equipment can help in increasing the productivity and reduce wastage of time and money as there are lesser chances of machinery breakdown during the project execution. Hence, it makes sense to upgrade the used equipment as it can allow the contractors or construction company owners to easily prepare for the demands of bigger projects.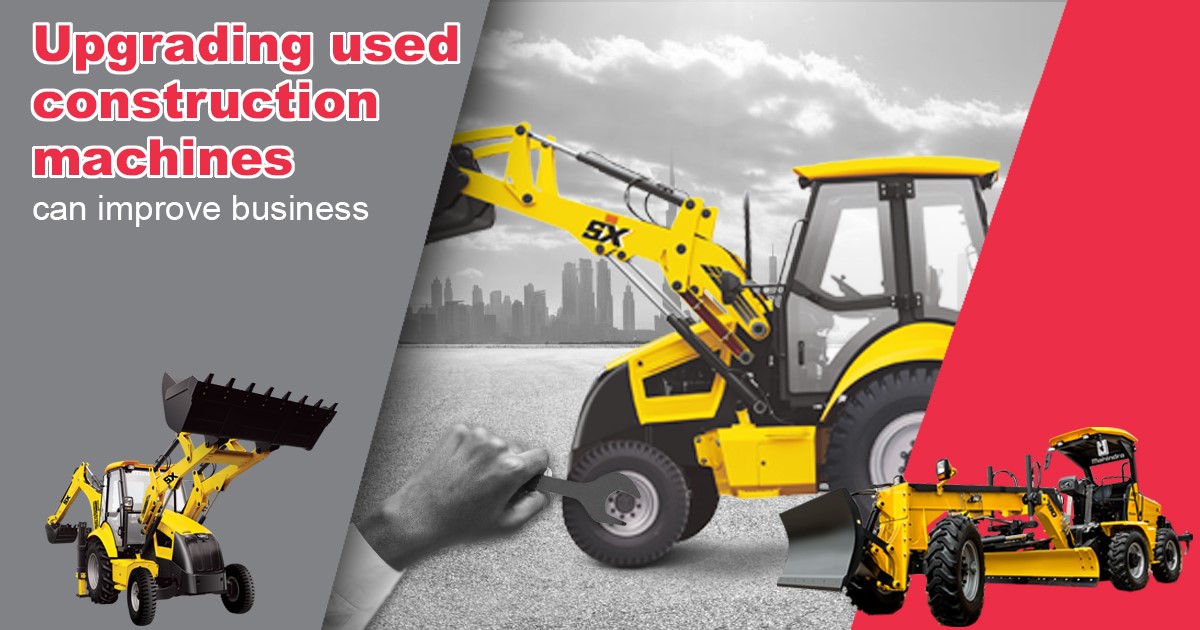 2. Facilitates timely completion of projects: Usually we see construction projects witnessing delays in execution. One of the reasons behind project delays is malfunction of the old and used equipment which can easily tarnish any construction company's or contractor's reputation. Hence, it makes sense to upgrade the CE to avoid these pitfalls. New equipment fitted with cutting-edge technology can ensure successful project completion within the given deadline.
3. Increases revenue: If the projects are completed on time or even before the committed deadline due to the upgraded CE, then contractors or construction company owners can work on new projects soon and this increase in number of projects can increase the revenue as well.
4. Enhances brand value and helps in building a good client base: Timely project completion with upgraded CE can also increase the brand value of business in the market, which in turn can help the contractors or construction company owners to get new clientele. This way, they can easily beat the competition. So, again upgrading the CE is a good option.
5. Reduces maintenance cost: It is to be noted that new CE with latest technologies usually require less maintenance. They are designed in such a way that they can work for long without major wear and tear. So, this again makes equipment upgrade important.
6. Improves quality of work: Upgraded CE can also help the companies to complete work with minimal quality defects as against the used CE.
7. Leads to cost-savings and profitability: Increased productivity and reliability of upgraded CE can translate into higher profitability as they drastically lower the chances of sudden mishaps during projects that can incur huge costs.
8. Saves environment: Last but not the least, generally, upgraded CE equipped with latest technology are environment-friendly as they don't produce much harmful emissions and consume less fuel at the same time. Thus, they can help in reducing CO2 considerably and help contractors or construction company owners to put a greener foot forward.
Thus, given the reasons above, it is best for the companies to keep their construction equipment fleet as up-to-date as possible and upgrade used construction machines as they can drastically improve business and help them stay one step ahead of their competition.
So now, if as a contractor or construction company owner, you have decided to upgrade your used CE like backhoe loaders, then Mahindra Construction Equipment's (MCE) EarthMaster backhoe loaders loaded with a plethora of features should definitely be on your list. Equipped with the superior technologies like REMOTECARE, DITEC Engine, joystick, 2-way speaker system and Banana Boom design coupled with unmatched fuel economy, superior style, operator comfort, low maintenance cost and ergonomic layout and seating, the Mahindra EarthMaster backhoe loaders can offer best of the benefits at the jobsite.
If you are looking to upgrade your used motor grader, then MCE's RoadMaster motor graders should be considered which are created to offer an affordable, un-compromised and mechanised grading solution for small and medium roads in India.
In a nutshell
It goes without saying that upgrading the used CE by replacing it with new and advanced equipment can make the business more functional, increase jobsite productivity, reduce downtime and improve overall efficiency. So, upgrading used CE makes sense as it can improve the business performance.