The High Cost of Construction Equipment Theft and How Mahindra Construction Equipment can Help
Over the years, instances of Construction Equipment (CE) theft have risen in the country considerably. Most common heavy CE which are stolen include backhoe loaders, skid steer loaders, wheel loaders and excavators among others. These CE are undoubtedly costly and thus, CE theft has become one of the major concerns for the business owners. The major reasons due to which CE theft has increased include unsecured construction sites, remote locations, machine idling due to project completion or slump in construction activities etc. That said, Construction Equipment theft poses a huge challenges for the business owners in terms of huge costs involved.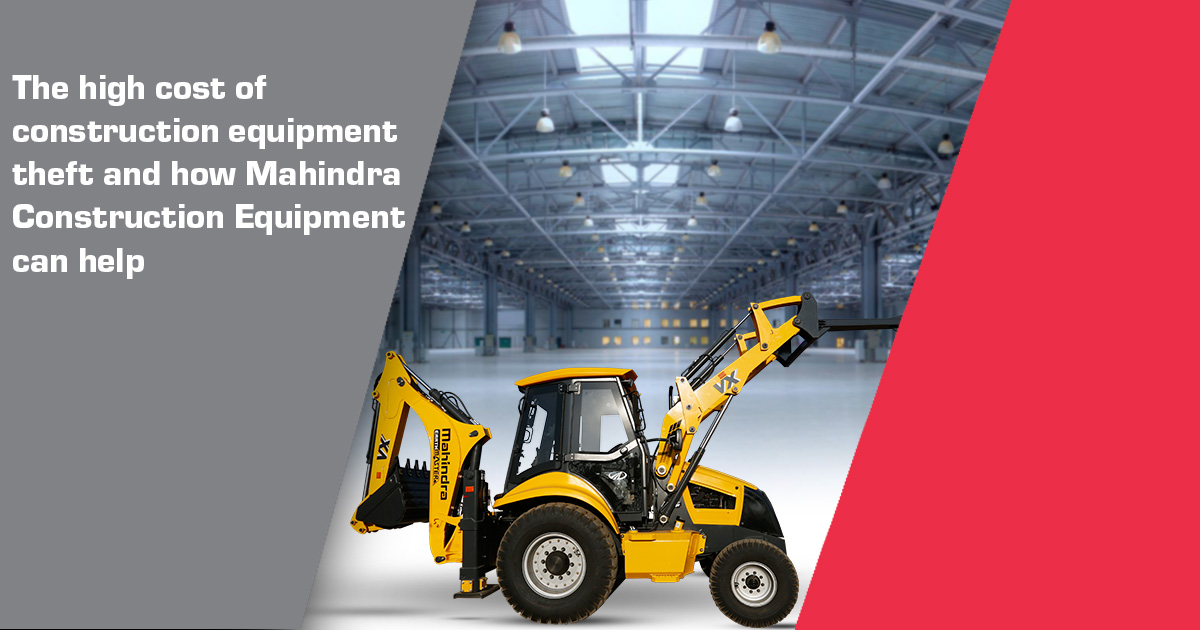 First, it goes without saying that heavy CE are very expensive and involve a lot of initial capital investment and if the equipment is lost, then it can mean a lot to the business owners. In fact, the cost of replacement is just the beginning of the headache that stolen equipment causes construction business owners.
Second, additional costs associated with stolen CE include renting replacement equipment, lost productivity, schedule delays and increased insurance premiums.
Third, delays can lead to missed deadlines which can result in hefty penalties and can even tarnish the business image in the client's mind and this can make you lose from your competitors.
Thus, it is advised that business owners should take all the measures to ensure that there is no CE theft. For that, they are advised to keep the CE in well-lit and fenced-in areas equipped with security cameras whenever possible. All the equipment should be labelled with a unique product identification number at multiple places. Further, cab locks and immobilisation devices should be used to ensure that the equipment cannot be easily moved.
That said, still CE theft has become quite common especially during the weekends or when the equipment is sitting idle on a remote location away from busy roads and areas. Here, it is to be noted that older models of CE which have less chances of being equipped with any type of telematics systems which includes GPS tracking that can be used to recover the equipment, are stolen the most. Thus, here, comes the importance of the technologically-advanced CE which can be easily traced and hence, CE theft can be reduced.
Mahindra Construction Equipment's BHL to put an end on equipment theft issue
Mahindra Construction Equipment (MCE) manufactures revolutionary Backhoe Loader (BHL)—Mahindra EarthMaster which is highly reliable and safe and is built to suit the Indian needs. The equipment comes with intelligent communication system i.e., REMOTECARE which is remote monitoring technology. This technology can help the business owners monitor the equipment even in the most remote locations of the country.
The technology keeps the business owner or fleet manager constantly informed about the machine through mobile phone-based SMS updates. This allows customers to break-free from the lack of control over the equipment and helps them in managing their machine from the comforts of their office, car or home, thus, taking operating freedom to the next level. Through REMOTCARE, business owners can know what's happening with their equipment for the whole day and they can get useful business information like daily work reports, maintenance schedule reminders, fuel level details or warnings for low engine oil and other updates through SMS. Simply put, the equipment gives the owners regular SMS about the machine's location, how many hours the machine is in use and the fuel levels before and after the use of the machine. Additionally, Mahindra EarthMaster comes with a digital log that keeps a digital log of the equipment's usage and efficiency. Thus, Mahindra EarthMaster can considerably help the business owners in putting an end on the instances of CE theft.
In a nutshell
There is no doubt that Construction Equipment theft can cost a lot to the business owners. Hence, it is necessary that they employ such equipment which are equipped with the remote monitoring mechanism that can help in precise control of the equipment and can add more value to the business. So, as a business owner, what are you waiting for? Put an end to all your worries about your precious CE, minimise the losses due to unauthorised use and abuse by the operators and know what's happening with your equipment even when you are not with it with the Mahindra EarthMaster's REMOTECARE technology.