Mining and Construction Equipment Sector Likely to Grow by 2019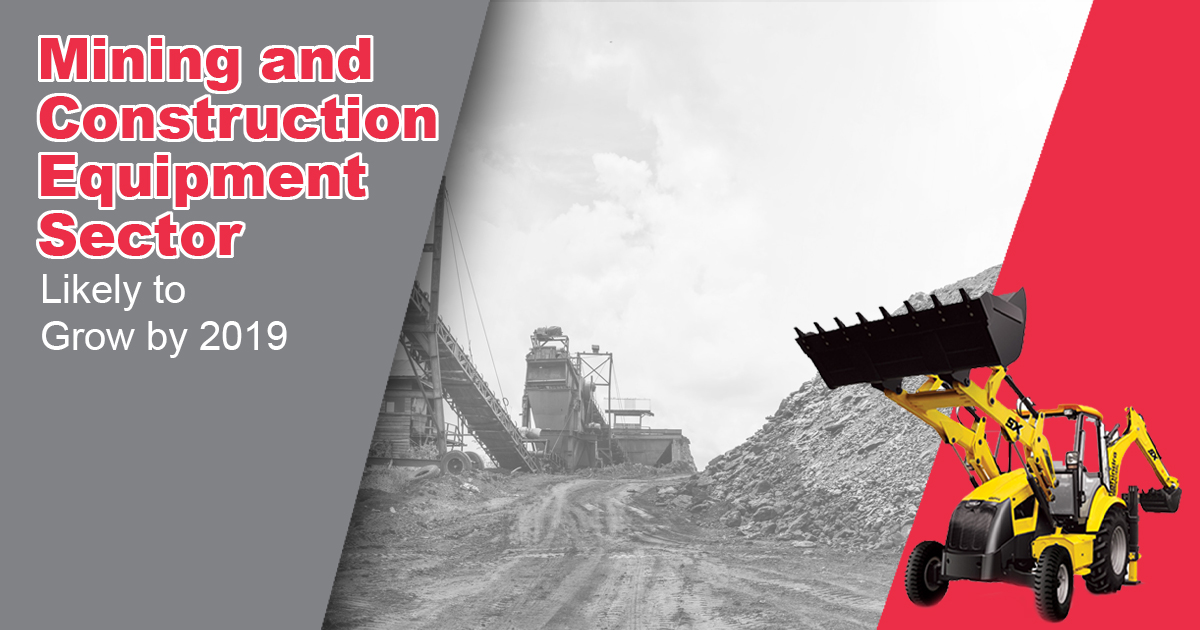 Owing to the increased infrastructure, construction and mining activities, the Mining and Construction Equipment (MCE) industry in India is growing at fast pace. This is because of the fact that the mining and construction industry require a wide range of machines to perform a variety of tasks such as preparation of ground, excavation, haulage of material, dumping/laying in specified manner, earth moving, material handling, road construction etc. As a result, a wide variety of equipment are used in the mining sector. These include hydraulic excavators, backhoe loaders, dump trucks, tippers, pavers, asphalt drum/wet mix plants, breakers, vibratory compactors, cranes, forklifts, dozers, drills, scrapers, motor graders etc. All the above stated equipment help in achieving efficiency, accuracy and productivity at the mining and construction sites. In addition, they save time and labour costs as well.
Market scenario for MCE
As per the rating agency ICRA, "The demand for Mahindra Construction Equipment grew by over 35 percent during the year 2016, overcoming four consecutive years of weak demand. Further, the sector grew by 13-17 percent in 2017." ICRA further believes that the MCE demand may be affected by Union elections in the first quarter of 2019 and the growth of the sector may slow down to around 4 per cent in the beginning but it will pick up in the second quarter of 2019.
A note on equipment used in mining industries
The mineral rich soil of the country is leading to major mining activities and this is highly impacting the mining equipment demand in the country. Majorly, the demand for earthmoving equipment like backhoe loaders which are used to move earth and minerals and motor graders which are used for constructing haul roads at the mining sites are seeing good growth.
Backhoe loaders, the highly versatile and multipurpose machines are extensively used at the mining sites. An extensive range of attachments can be easily attached to the backhoes to perform some of the most difficult tasks at the jobsite such as lifting, grabbing objects, dozing, drilling or levelling the ground. For example, the hydraulic breaker, auger, dozer blade, forklift, loader coal bucket and various other backhoe attachments are used at the mining sites.
One of the other most popular equipment used at the mining sites is motor graders. They are used for constructing and maintaining haul roads and for movement of men and materials at the mining sites. Jobsites like quarries and industrial sites in remote areas generally do not have proper roads leading to the site. Here, motor graders create temporary roads leading up to the site to sustain daily operations and enable ease of transportation. Further, by building and maintaining haul roads which are constructed for heavy or bulk transfer of materials at the mining site, motor graders support maximum efficiency in mining operations. Apart from the above, motor graders perform various other tasks too at the mining site. Like certain graders with special attachments can be used for separate tasks like underground mining as well.
A brief look at the few other mining equipment…
1. Haul trucks: They are used for heavy dirt hauling jobs.
2. Dragline excavators: These machines are extensively used in surface mining. The larger types are used in strip-mining operations to move overburden above coal and for tar-sand mining.
3. Scrapers: They are large motorised machines used for digging, hauling and levelling out materials in a variety of mining jobs. Running on massive rubber tires, motorised scrapers quickly move large quantities of earth around a mining site.
4. Shovels: These machines are used for digging and loading earth or fragmented rock or for mineral extraction at any mining site.
A note on equipment used in the construction sector
A wide variety of equipment are used at construction sites to make the job easy, safe and quicker. Here again, motor graders and backhoe loaders are extensively used. While the most common uses of backhoe loaders are digging ditches, laying pipes, planting underground cables or laying the foundation for buildings and drainage systems, with few additional attachments, they can do much more. If an augur is attached to the backhoe, it can be used to drill holes for planting trees, signs and fencing projects in a variety of soil types. By joining a bucket for cleaning the ditch on the rear, grading and slope-cutting can be easily done with the backhoes. Asphalt cutter can be attached to the backhoe to repair roads, gas and sewer lines. Apart from the above, various others attachments are also available which can be easily attached to the backhoe loaders to perform some of the most difficult tasks at the jobsite such as grabbing objects, dozing or levelling the ground.
On the other hand, motor graders are also extensively used at the construction sites. They are used for setting the soil for construction, earthmoving, sacrifying, land grading, levelling of soil or land and mixing materials. Apart from this, graders can also be used for trenching, digging shallow holes, ditching and laying pipes.
Apart from the above, few other equipment that are used at the construction site include…
1. Bulldozers: They are powerful equipment which are largely employed for shifting huge amount of dirt on jobsites where there is wide open spaces, rough grading and grinding rocks.
2. Excavators: They are used for variety of applications like digging trenches, holes and foundations, material handling, general grading/landscaping etc.
3. Forklifts: A forklift truck comes with an attached prolonged platform that can be lowered to pick an object on or below the ground and raised to move the object.
4. Cranes: For movement or hoisting of materials at any road and construction site, the equipment that gets top-most priority is the crane.
Bright future prospects for MCE
Given the rapid industrialisation, mechanisation, urbanisation, growing infrastructure spends, increasing foreign investments and growing mining and road construction industry, the MCE industry is expected to grow considerably in the coming years. As per a report released by Indian Construction Equipment Manufacturers Association, "The Indian construction industry is expected to grow to $5 billion by 2019-2020."
Anticipating this huge growth of MCE segment in the country, many equipment manufacturers in the country are coming up with new and upgraded equipment to cater to the increasing demand. Particularly, Mahindra Construction Equipment amongst the others is playing a definitive role in providing further boost to the MCE segment in the country. With its offerings i.e., Mahindra EarthMaster backhoe loaders and RoadMaster motor graders, the company is gearing up well to embrace the projected growth of MCE sector in the country with grace.